Make your company visible on internet
Are you in business? Do you have an online store? Remember, from the first days of your presence on the electronic market, you should make sure your company is visible on the Internet. Thanks to this you will have a chance to reach Poles who regularly buy and look for services online! You don't want to lose the opportunity to reach customers because no one will see your service?
Users want to have easy access to information
This means that you must take care of your company website, which will be the base of all marketing activities. You should put on it the most important information about the company, such as phone number, addresses and opening hours of shops as well as a description of products and services offered by you. The website should be responsive, well positioned in the Google search engine and kept up to date.
The first impression is very important – an Internet user who will be alienated by visiting the site for the first time will not return to it. Its address should be placed on the company profile in Social Media, business card in the company directory and on the profile in Google My Company.
The second place where your future customers will look for information about your company is social media. Facebook is currently used by over million users. Therefore, gaining user's attention and generating traffic with their help is a great idea to advertise your company on the web. To fully exploit the potential of social networking sites, keep track of who is referring to your brand and where, react and draw conclusions. Create valuable content so that users want to share it with others, and your company will certainly benefit from it.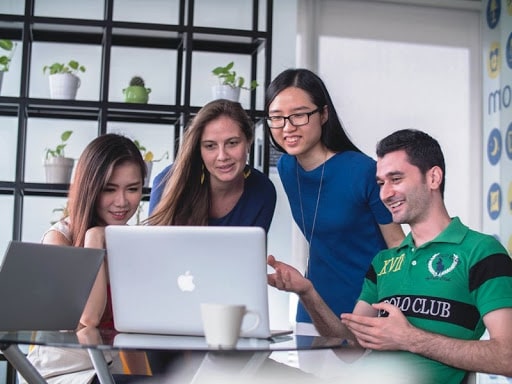 Users do not like to wait long
Internet users, who already have million, use the Google search engine every day to search for products or services of interest to them. They enter specific phrases, e.g. "leather shoes", expecting the search results to include attractive purchase proposals or links to websites of companies that sell shoes.
Therefore, you should ensure that your website appears in this ranking on a high position. Internet users do not like to search long and are not likely to browse more than 3 pages of search results. If your shop or company website is visible on one of them, you have a much better chance to fight for a customer.
How to make your website appear high in the search results? SEO is responsible for optimizing the website for search engines. It is a process which results in building visibility in organic search results. It includes technical optimization of the website, optimization of the content on it, as well as building a qualitative link profile and authority of the website's connections through various marketing channels.
SEO is not worth forgetting. The company's presence in the search engine not only increases its visibility in the web, but also builds trust in the brand. If you want to check if your website is well optimized, check the correctness of its code and determine what keywords build its visibility on the Internet. Also check what phrases affect the real achievement of high positions in the search engine and whether they are included on the website.
Users pay attention to the opinions
More than half of the Internet users, entering the website of an online store for the first time, decide to buy if they find positive opinions about the company on the Internet. So if you want your company to sell, take care of its presence on websites that allow you to evaluate the purchasing process, quality of service or the return and exchange system.
Company directories are places where companies place their data, the address of their company website and information about their activities. They also enable the users who have used the services of a given company to issue opinions. Their strength is also the fact that they are often high in search results.
Thus, customers looking for a given service with their help can find a link leading to your website and get acquainted with the available opinions. High rating will surely bring them closer to making a purchase decision. The presence in the catalogue also influences the positioning of the website. If you want your company to be visible on the web, it is necessary to consider establishing such a virtual business card.
Google My Company is a free, easy-to-use tool for managing your company's image in Google, including your search engine and Maps. If you verify the information about your company that's there and keep it up to date, you'll make it easier for customers to find it and tell them about yourself. Users will get an extra place where they can learn more about you.
Remember, the company's visibility on the web consists of various integrated marketing activities. It is important both to position the website, maintain accounts in Social Media, create valuable content, and make sure that information about the company appears in several places on the network.