What is Content Marketing
Content marketing is a strategy in marketing communication that involves making noise around the brand with valuable content. Nowadays it is increasingly used by global brands as well as local businesses. Its effectiveness results mainly from the fact that traditional advertising formats (e.g. banners) have lost their impact.
Instead of annoying advertisements, Internet users expect knowledge and information from brands. According to a study conducted by Smart Insights, content marketing is the most effective marketing technique in the context of acquiring new customers and generating revenue.
This is a new approach to communication that puts the customer and his needs at the centre of attention. Many brands have thoroughly restructured their information infrastructure according to the principles of content marketing, their websites have become more industry magazines than classic brand business cards. For example, the website of the world's most famous energy drinks producer has become a mecca for extreme sports fans.
Content Marketing is a strategy that works well in activities aimed at both increasing sales and creating the desired image or increasing brand recognition. In all cases, it is more about promoting a certain lifestyle inextricably linked with the company's products or services than the products themselves. However, in order to be successful in this respect, i.e. to attract attention and arouse interest among potential customers.
The content presented by the brand must be:
Inspire, customers expect not only information from brands, but also new ideas that they can use in life,
Evoke a need to buy (it is a strategy known for a long time, first the company creates a problem and then shows how to solve it, most often with the help of a manufactured product.
Stimulate is a tactic most often used by manufacturers of sports equipment, who in their materials encourage to spend their free time actively,
Engage emotionally, brands are increasingly becoming inspirers of actions whose goals are at least noble.
Seduce, the brand is to become an object of worship, almost a cult.
To offer added value to customers, the information presented to customers must be important, relevant to them.
Educate, today's brands also have a responsibility to educate the public.
Content Marketing – 4xP
Content marketing is the plan, production, publication and promotion of content. Some people also point out that an integral element of this strategy (as any other) should be monitoring the effects, i.e. controlling which content engages, to what extent it is of interest, how it is consumed and whether it has contributed to the goals set in the plan.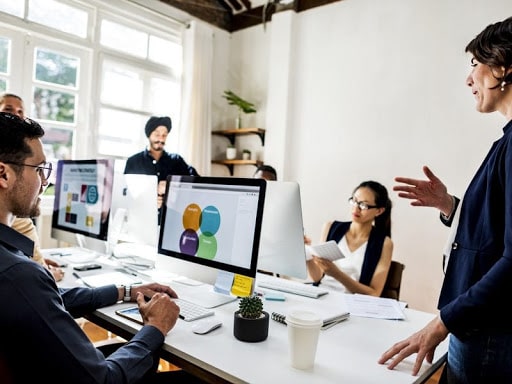 Each of the pillars of content marketing is equally important, treating one of the stages in a nonchalant manner may effectively contribute to failure. It is worth remembering that even high quality content, without proper promotion, can go unnoticed. Similarly, it is worth bearing in mind that it is difficult to promote low-level content.
The plan – should include :
The nature and scope of the content the brand wants to present to its customers.
Time schedule, it is necessary to determine the time intervals at which the content will be published,
distribution channels, i.e. places where the content will be presented,
technical and financial capacity to produce content,
the goal, how we want to achieve with the help of content marketing activities. It should be as precisely defined as possible. It should be captured in time and space.
Production – in this aspect companies have two options to either produce the content on their own or to outsource it to a specialist company. Both options have their advantages and disadvantages, and the choice of the best one does not necessarily have to be related to finances. Many companies, although they have the right budget, do not have the right competence in this aspect.
Ordering this task to an external agency allows you to benefit from the experience and knowledge of their employees, and also allows you to look at the activity of the company from a distance. The advantage of producing content on your own is that nobody knows the company as well as its employee.
Promotion – The essence of content marketing is that companies create content for their lovers. As in the case of publications, content can be promoted on their channels or external platforms. In this respect, social media play an irreplaceable role in the current reality. Practically every user looks into their profiles at least once a day.
Publication– the choice of content distribution channels is a strategic thing, it depends on their correct choice whether the content will reach the right recipients.
Summary
In the near future, valuable content will play an increasingly important role in the communication between companies and customers. Currently, more than of companies plan to increase their expenditure in the area of content marketing. This shows that most entrepreneurs not only believe in the power of content marketing, but are aware of the benefits it guarantees them.